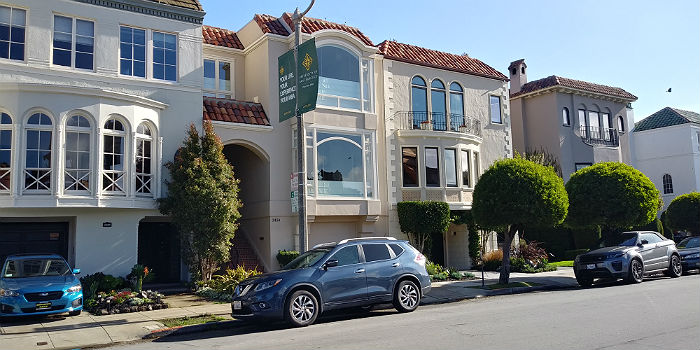 Moving to San Francisco provides access to culture, outdoor leisure, and nightlife. From the IT sector to textiles and aircraft, the business is flourishing. You may establish your ideal profession while living in the heart of the activity, or you can choose a peaceful hideaway. You may look for rental houses, but you can also utilize the advice to find the perfect home for your budget and needs.
According to personal finance experts, rent should not exceed 30% of your salary. But for many young professionals today, hunting rooms for rent in San Francisco find it difficult. It is apparent that locating a rental property that doesn't break the bank is quite tough. So, how to find an ideal rental property at a lower price?
Here's how to find the best rental apartments that provide suitable facilities at reasonable costs in San Francisco.
Download real estate apps
Download applications to remain in touch on the postings of rental properties. You can check them regularly to cast a wide net. Take use of any perks that the app provides to individuals who create an account, such as the option to store searches or keep track of your favorite listings. As a result, your search will be much more specialized. You can enable alerts as well so that you can get notified whenever a new listing that meets your criteria gets added. It is helpful because when thousands of other individuals are looking for locations, even answering minutes before others may significantly impact.
Join housing groups on Facebook
There are several Facebook groups where individuals submit apartment listings. This encourages people to join groups like the New York City group, San Francisco group of rental properties (and so on) to get regular updates about the vacant rental properties. In addition, it makes apartment hunting more individualized because you can look up the lister's social media page. Google your city name with "apartments," "listings," or "housing" to get a slew of organizations. Then, make a request to join them.
Applying for an Apartment in San Francisco
Hunting rentals is challenging. If you come upon a reasonable price, it is best to agree to it and move quickly. However, if the rent doesn't please you, it is better to prepare to fill out an application when you search the following apartments. For any apartment you're interested in, you should expect to pay a non-refundable application fee. So call the broker or landlord as soon as possible. If possible, enquire about the necessary papers for the application. Some folks may want specific documents to be signed and submitted, so you should be prepared for everything in advance.
Are you willing to share the apartment?
Moving into shared housing is a terrific method to meet new people if you want to expand your social circle. The living expense is not a simple matter these days, especially if you are looking for rooms for rent in San Francisco, where the rental market may be fiercely competitive. Sharing housing is an excellent method to cut costs rather than paying rent and expenses individually.
Post an Advertisement
The more you advertise your search, the more responses you will receive. So, publish what you're searching for on Facebook and other social media websites. If you don't want to reveal your specific pricing, you may always mention a range or use phrases like "on a budget." Next, join roommate finder website such as 'Cirtru.com', and consider placing a Craigslist ad for roommates. Again, include your budget, preferable neighborhoods, a little information about yourself in these posts.
Consider Your Commute Time in San Francisco
Although many individuals drive in San Francisco, public transit makes it simple to move around. Parking is limited, which raises the entire cost of living. Uber and Lyft are two more options that can be considered for commutation or traveling. The San Francisco Municipal Transportation Agency (SFMTA) offers Mini transportation, bicycling, walking, and renowned cable cars. San Francisco is a highly walkable and bikeable city. San Francisco has a walk and biking score of 99 out of 100 each. However, you'll need to get acclimated to the hills, which might make your daily commutation around the areas near it a bit difficult.
Establish Your Apartment's Priorities
Formulate a quick strategy for finding rooms for rent in San Francisco. While choosing an affordable apartment in San Francisco, you may have to make a trade-off in terms of space, facilities, or location. Choose a studio apartment if you wish to live in the trendiest neighborhoods, such as Haight Ashbury, or on the outskirts for lower rent prices. To choose the finest apartment and location, it is vital first to decide your housing priorities.
Conclusion
It is really difficult to look for low-cost houses for rent in San Francisco. Keep in mind to take your time and after you've found an apartment, take a stroll around the area. Ask yourself a couple of quick questions- Do you think the apartment is good? Could you envision yourself settling down there? If the response is "Yes," follow up as soon as possible because apartments are in high demand. If the response is "Maybe," give it some more thought. Don't let yourself get carried up in the hysteria.
It is crucial to set your priorities before going out to search for an ideal rental home for yourself. However, understand that to choose an affordable rental property in San Francisco, you may have to sacrifice on some points. For example, it is not always feasible to find a perfect rental property, which is situated in a posh locality, offers optimum facilities at a significantly lower price. Therefore, endeavor to tick as many boxes as you can in the checklist of buying the most suitable rental home for yourself in San Francisco while also being aware of the practical notions.
Nova is a writer, blog hunter, From Europ. He has been interesting about Phone Hardware-software and also PC Hardware-software and SEO for years. This website was invented by him. edexgo.com receives 200,000+ page views per month. 4k+ subscribers. You can also join us and advertise with us