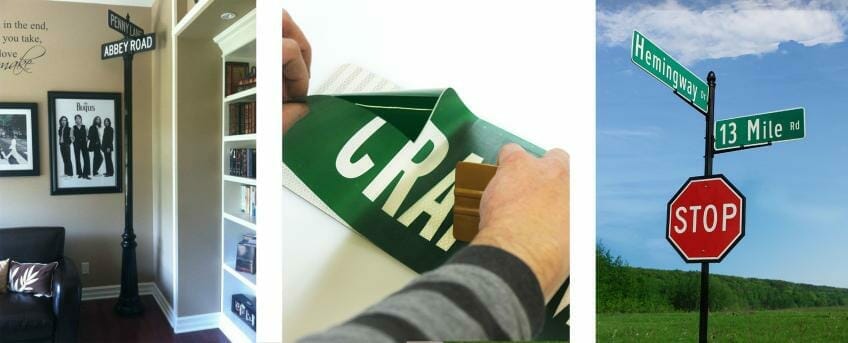 Create a Wayfinding Strategy for Your Store with Personalized Street Signs
If you are unable to navigate to a certain business location the first time, you leave with a bad impression. You'll probably think twice before visiting that facility again. Most shoppers don't return to stores that are hard to find. That's why savvy business owners make their company locations accessible –in the digital world (Google Maps) and the physical world.
How do these business owners make their stores more 'physically' visible to their target customers? By using personalized street signsas wayfinding tools to guide all target customers. Establishing a wayfinding strategy for your business isn't just about helping customers find their way to your business location.
It's about making the overall client experience better by familiarizing and orienting them to your store's physical location. When people see well-designed signs, they register the images in their minds. Business owners can easily create successful wayfinding strategies with custom-printed street signs. Here's how.
How to Use Custom-Printed Street Signs to Boost Store Visibility
The use of custom-printed street signs to create wayfinding strategies is an old tactic that many businesses have successfully employed. For example, companies operating in multi-floor office buildings often use custom-printed street signs to help their employees navigate the facilities.
The companies that don't create wayfinding strategies for their employees aren't as productive. According to a recent study, 40% of workers waste up to 30-minutes every day navigating their office buildings. Companies that use custom-printed street signs to create wayfinding strategies for their employees don't have this problem.
When it comes to physical retail stores, the same logic applies. Business owners that help their customers identify exactly where they're located get more repeat visitors. With the custom-printed street signs, customers learn to navigate their way to the store on their own, much more conveniently.
So, what types of custom-printed street signs do you need to create a successful wayfinding strategy for your business? Here are the basics.
Eye-Catching Signs
User reactions to signs and displays vary. However, high-quality displays, colors, designs, and symbols almost always draw the attention of the target customers. It's not guaranteed that the customer will like your unique, well-designed custom-printed signs. But, unique displays, color combinations, and designs at least attract their attention.
Focus on Giving Customers Directions
Don't go overboard with the design of your signs. Think about the last time you visited a sports stadium. Did you refer to the direction signs at the stadium to move through security, locate bathrooms, or find your seats? Yes – everyone depends on custom-printed signs when they visit confusing locations.
That's what your custom-printed street signs need to do. They must feature direct, easy-to-understand instructions for potential visitors.
Get Different Types of Street Signs
custom-printed street signs are cheap. Business owners can easily get dozens of these signs without spending too much. Try to custom-create different types of signs such as –
Identification signage
Directional signage
Informational signage
Regulatory signage
Make every important detail about your business visible to the target customers. Give your future customers the best chance to discover your business!