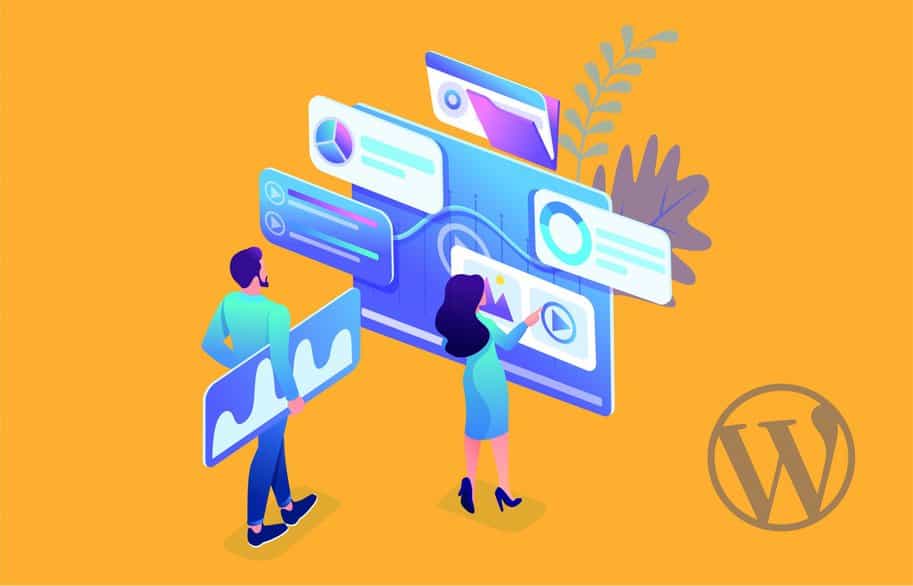 With the advent of modern technological advancement, the website development and design landscape are changing more rapidly. Therefore, if you are an online business owner aspiring to thrive in the online domain, you must remain aware of these changes, especially WordPress trends. If you already do not know, WordPress has been a significant website powerhouse for over a decade.
Be it full-fledged websites or simplistic blog pages, WordPress hosts approximately 30% of websites globally. Furthermore, when speaking of the latest trends, WordPress continually evolves and remains abreast with the latest technologies to make your work more seamless and your website more effective.
Top WordPress Design Trends in 2022
Here are some latest WordPress Designs to follow in 2022.
Minimalist website design and effective use of white area
One of the primary WordPress web design trends is keeping a minimalistic website design and effective use of white space. In addition, optimally using white space and minimalistic themes is pivotal in grabbing your visitors' attention.
Moreover, you must know that minimalistic design makes your website look less cluttered and soothes your eye. Therefore, by leveraging the advantages of minimalistic themes and white space, you can highlight the core areas of your WordPress website.
Adoption and increased use of virtual reality
Augmented reality combines virtual reality and augmentation, where you can transform any area with digital objects. This state-of-the-art technology adds system-generated pictures over real-world photos to enhance the online user experience. In addition, augmented reality will become essential for companies using portfolio websites in the coming years.
Furthermore, with this latest WordPress website design trend, it will be much more comfortable to build an AR or VR-ready website. You can even create a 2D or 3D map for online users that will assist them in better exploring the website from all angles. Also, if you like to build a business website that places you ahead of your contenders, use AR (Augmented Reality) or VR (Virtual Reality) techniques to build a virtual shop where clients can witness the product without feeling it.
Increased use of virtual assistants and chatbots
In recent times, Artificial Intelligence (AI) has been remodeling the online world and helping online platforms boost their productivity. It is no different when speaking of WordPress and offers the best assistance to build better-personalized content.
Furthermore, this rapid AI advancement has assisted modern companies in deploying virtual assistants and chatbots to handle client queries at any time during the day or night. These chatbots and virtual assistants eliminate the need to hire a human workforce or make clients wait for an extended time to connect with a customer service representative.
Apart from improved client satisfaction, enterprises can also save considerable money they would spend on hiring, training, and retaining their workforce. In addition, chatbots and virtual assistants can get programmed to accomplish your exact objectives and manage queries/problems of multiple clients simultaneously with 100 percent precision. They can get revamped from time to time to make them even more progressive.
Use of voice search
Voice search is another prevailing WordPress website design trend quickly gaining traction in the online domain. So if you own a business website, it is prudent to add voice search attributes since individuals are more relaxed using this feature on their web devices and mobile phones. Moreover, with WordPress, you can effortlessly integrate voice questioning with Alexa or Google Voice Assistant.
Enhanced content accessibility
With more and more individuals with disabilities using different online platforms, concentrating on website accessibility has evolved as a crucial consideration. Intelligent speakers with improved voice abilities are in trend, and improved accessibility has become a new website design trend.
In addition, the ever-rising dependence on the internet for almost every part of life, from healthcare to education, dating, grocery, and recreation, has necessitated improved website accessibility.
Effective drag and drop builders
The drag-and-drop builder is one of the most significant website design trends that every online business owner must remain acquainted with to create better websites. With this automated drag-and-drop builder, the business owner can personalize their website design while creating a website without prior coding knowledge.
This drag-and-drop builder functionality allows the website designer to look at how any webpage will appear online. Furthermore, numerous WordPress page builders, such as Elementor, WP Bakery, etc., help you strategically place web elements. Likewise, drag and drop is the most favored technique of website editing as it lets anyone with no coding knowledge create a website or web page without any hassles.
Thumb scrolling
Thumb-scrolling has been immensely prevalent amongst the millennial generation. So it would not be surprising to know that most WordPress themes have now become mobile-friendly and thumb-scroll-ready. Also, hundreds and thousands of free and premium WordPress themes offer thumb-scrolling features and tremendous comfort to your visitors.
Interactive conversion opportunities
By now, you might already be aware of chatbots and virtual assistants and how they help clients resolve their issues and queries in no time. Nevertheless, it does not ensure sustaining the client. This situation led to the introduction of Interactive Conversion Opportunities and excellent CTA design.
An interactive CTA (Call-to-Action) comprises a dynamic action button like call us now, making it more effortless for the user to immediately connect with the client assistance team, helping reduce potential lead bounce rate and boost website conversion. In addition, you can also utilize WordPress plugins to make interactive CTA (Call-to-Action) designs and other instruments accessible outside the WordPress mart.
Infinite scrolling and lazy loading
Infinite scrolling and lazy loading deliver a more satisfying client experience since they improve the loading rate of your website. These features help you accomplish this by only loading the content that must get loaded first. Apart from these features, WordPress also holds a lazy-loading web plugin that will assist you in reducing the initial website load time. For instance, if you need to keep only a few pictures on the main website page, it will clear all unnecessary styles and scripts to enhance the user browsing experience.
The Bottom Line
In a nutshell, WordPress website design and development trends have evolved quite remarkably in the past years, and these transformations or web design trends have arrived as an outcome of varying user requirements.
Therefore, if you want to accomplish higher client satisfaction, improved conversions, and better audience engagement, it is prudent to keep up with these emerging WordPress website design trends or you can simply hire a WordPress developer.
Nova is a writer, blog hunter, From Europ. He has been interesting about Phone Hardware-software and also PC Hardware-software and SEO for years. This website was invented by him. edexgo.com receives 200,000+ page views per month. 4k+ subscribers. You can also join us and advertise with us