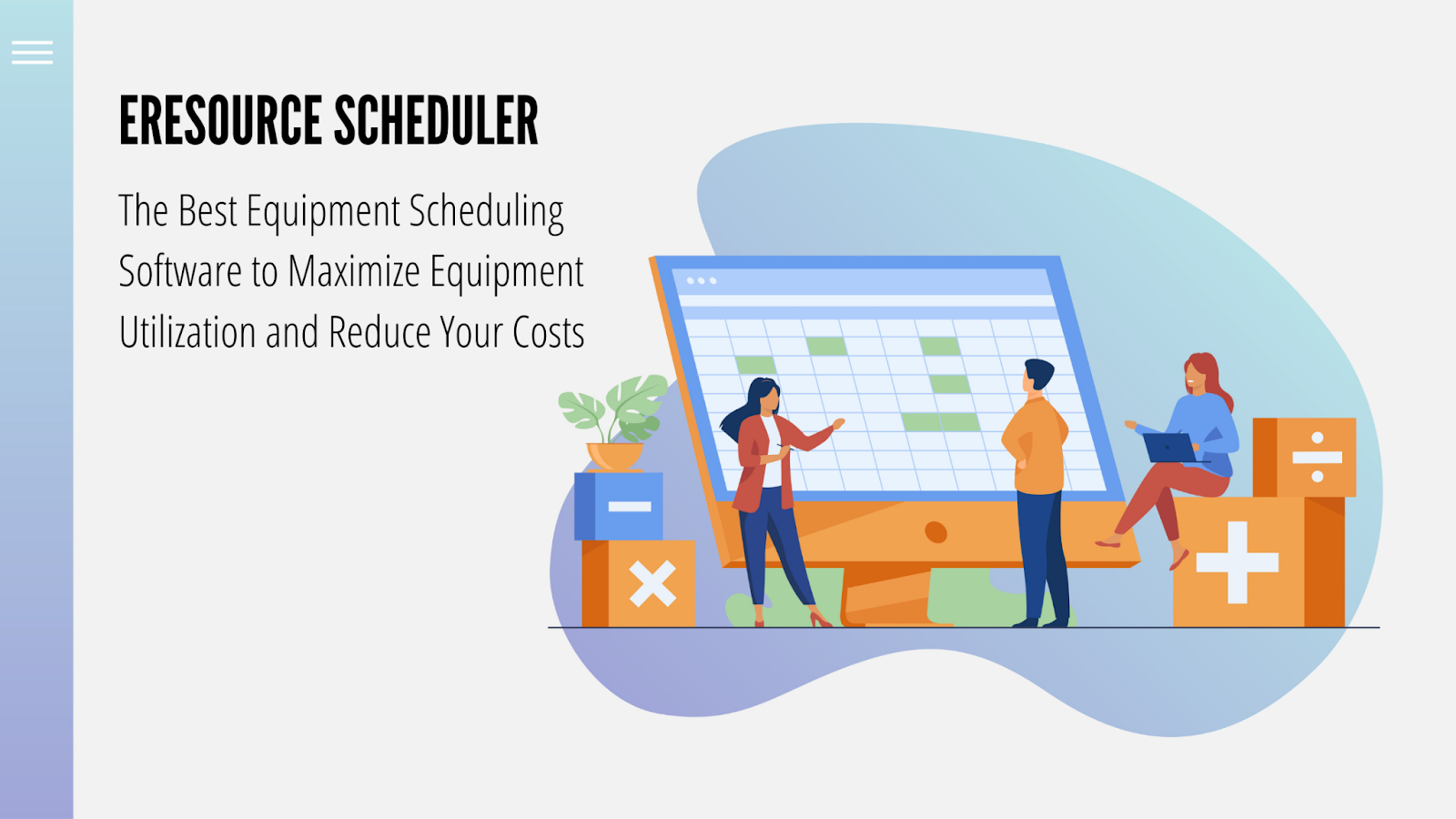 eResource Scheduler – The Best Equipment Scheduling Software to Maximize Equipment Utilization and Reduce Your Costs
What is the top priority for any business? To achieve the highest growth possible and reach optimum productivity levels. But what's the secret to this? Simply acquiring and allocating resources and equipment does not assure sustainable growth. You also need to ensure optimum equipment utilization. Bad planning and allocation can result in huge negative impacts on your projects. Moreover, not only will your schedule get derailed, but you won't be able to deliver good quality output. So, what's the answer to this problem? Implementing an equipment scheduling software that can help you with planning all tools, and equipment, and calculate equipment availability for the near future is your best bet. You can streamline your resource management and equipment bookings and get cost reductions with the right resource management software.
Optimizing Equipment Utilization
Optimal equipment utilization is the process where you need to maximize the use of your equipment and other resources to gain the most out of the available capacity. Calculating and tracking the equipment utilization percentage helps to plan the project schedules optimally. Team leads and project managers use these plans and schedules to forecast the equipment utilization and then work towards optimizing them. Under-utilization of equipment can be counter-productive for the business as it will lead to losses. In contrast, if project managers create their schedules in a way that ensures optimal equipment utilization and is planned efficiently so that no schedule is missed, then a business can experience cost reduction. Over-utilization of equipment and other resources means that equipment is being over-utilized, and this can lead to machinery, tools, etc. crashing, and hence project delays. Thus, equipment scheduling software can help strike a balance in equipment utilization.
Top Benefits of eResource Scheduler – leading Equipment Scheduling Software
Implementing an equipment scheduling software will help cut your costs and save time. Wondering how? You will be able to schedule and track all your equipment easily, in any location, almost instantly, and on any device. Let's take a look on what are the top benefits of eResource Scheduler.
Create one schedule for all equipment and machinery across business
An equipment scheduling software such as eResource Scheduler helps to schedule all machinery, tools, and equipment with an easy drag and drop feature. You can schedule the equipment quite easily and also transfer them around your business facilities with the help of a real-time scheduler. That's not all. You can monitor all your equipment in just one single schedule and save a lot of time. All team members can get a bird's eye view of the equipment and machinery in this cloud-based and AI-enabled resource management software.
Multiple users can schedule equipment without a double booking
Multiple users or team members can log in and access an equipment scheduling software such as eResource Scheduler. It enables various people to schedule equipment at the same time across the organization, maybe at different locations, and without getting any double-booking errors.
Easily find the right equipment across the organization and instantly
You can find and schedule the right equipment you need as per your location, technical requirements like power, precision, and even on a suitable budget. If you are using eResource Scheduler, you can easily schedule equipment and other resources with a single secure and online platform that offers complete visibility. You can match equipment to your needs with feature matching. Whether you're scheduling some specific equipment, technology, tools, machines, or facilities, just use custom fields to classify it and then use filters to exactly find what you need.
Schedule work and time
This resource scheduling software can enable you to book equipment or machinery for any type of task or work. You can also monitor any activity type while creating your classifications to label equipment usage and the exact status the way you require. What's more? You can add operating notes, specific checklists, or some relevant documentation as support. Book equipment for a few minutes, hours, months, or years and add the resources and tags you feel you will need. eResource Scheduler ensures no user does any double booking or overbooking by any chance.
Schedule routine inspection or maintenance for your equipment
eResource Scheduler is a leading equipment resource scheduling software tool that helps you schedule inspection and periodic preventive maintenance for all the equipment. The tool also sends you timely notifications or alerts and reports so that all your equipment is up to date, maintained routinely, and remains in good condition.
Automatic updates of all equipment schedule
With eResource Scheduler as your resource management software, you will get a real-time snapshot of all your organization-wide equipment bookings and equipment utilization. You will also get an update or notification on which user has reserved which equipment, what is available and what is not, which equipment is checked back in, and which one is overdue.
Give the users more control and encourage better collaboration
Users can easily stay connected with the cloud version of eResource Scheduler. You can easily sync your equipment scheduling with all other apps or systems that you may be using such as Outlook, Gmail, etc. Designed to function on any device and from anywhere, this equipment scheduling software encourages better teamwork, smooth communication, and better collaboration. You can share data, and keep your team members in the loop by granting them access to view the equipment schedule. This acts as a reminder about the upcoming due dates with alerts and automated email reminders that are sent by the equipment scheduling tool.
Integrate easily with any existing systems
This tool easily integrates with any of your existing software and enables seamless data import or export. So, you don't need to worry about eResource Scheduler not being in sync with your other systems that your business may be using currently.
Foresee and spot any deficit or excess of equipment well in advance
This resource management tool offers powerful analytics to predict supply vs. demand and find if there could be any shortfall or surplus of equipment well ahead of time. This further enables planning to either buy, rent, borrow the equipment and then track the same.
Graphical snapshots and detailed reports and dashboards
eResource Scheduler also helps in project and resource management and eases a team lead or project manager's life. It provides equipment utilization, productivity, resource utilization, availability reports and also visual dashboards. All this important data comes in handy when you need to make informed decisions, improve profitability, and costs reduction. To comprehend any data efficiently, simply configure the reporting views. You can also identify all the over-and under-utilized assets or resources and accordingly apply colour coding using configurable filters.
Optimize your equipment utilization for cost reduction
eResource Scheduler is an equipment scheduling software that can help you predict the utilization of all types of equipment and machinery across the business. This in turn helps in doing optimal scheduling and allocation of equipment and ensures that your organization saves money and time. Also, when the work and project management is streamlined and the workload is balanced, errors are reduced. No planning errors happen because of automatic conflict and availability reports. Moreover, an improved scheduling process provides clear visibility and better utilization of your equipment and other resources. You also end up saving time as you cut on everyone's manual work with automated processes, timesheets, and reporting.
Real-time data and analysis
This award-winning and AI-enabled resource management software helps the users to assess the status of all their running projects and resources in real-time. So, if there are multiple types of equipment and resources assigned on a particular project, but may be located in different locations, then this tool works as your single, online centralized system. Not only does it offer visibility into the team's productivity, but also equipment utilization to see if any equipment is lying idle. In case you feel like doing any changes to any plan or schedule, you can do so in real-time. This further helps in determining if there is a possibility of any delays and therefore, you can adjust your timelines.
Plan a Free Trial for eResource Scheduler Cloud and get Personalized Support
Choose a plan that suits your business and resources the best. You can book a free trial and enjoy the benefit of personalized support to configure the tool as per your project and business requirements. This leading tool has brilliant features like unlimited projects and bookings, user access rights, resource requests, gap reporting, and also a timesheet module. So, book this equipment scheduling software soon to maximize equipment utilization and resultant cost reduction.