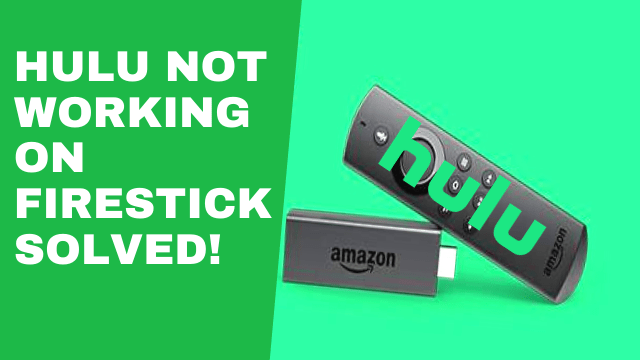 If you are facing a problem with Hulu not opening on FireStick, then you are at the right place because, in today's article, we will share the ten best fixes for Hulu not working on Amazon FireStick.
I watched Hulu calmly a few days ago when it abruptly stopped working, and I couldn't see anything. It took me several hours to solve this problem, after which my app resumed regular operation. Then I try to figure out what's going on and begin looking for a solution.
To resolve this problem, If you don't read this post to the conclusion, you might not fix this. Before moving on to the solution guide, we must first understand why this problem arises and its causes.
Why Is My Hulu Not Opening On FireStick?
Hulu is a well-known video streaming service that offers TV shows, manga, anime, movies, and web series. This is the same as Free Netflix, Amazon Prime Video, Crackle, Disney+, and similar services. On the Firestick, it works well, but some users have reported issues with Hulu not working.
There are various reasons you are experiencing this issue, and we will now discuss some of the most significant and common ones. You can look over the list below and figure out the solution on your own.
Poor Internet Connection:

The primary and most prevalent reason for this issue is that your internet connection is slow. It's because apps like these rely on high-speed internet to broadcast movies, TV shows, and other information.

Hulu Server Down:

You may still get this message due to technical issues with the app. Because servers can't always manage a lot of traffic and crash otherwise, the program may encounter a bug that causes it to stop working.

Outdated Hulu App:

Hulu is not opening on Firestick because it hasn't been updated in a long time. They either add new features or eliminate old ones in the latest version. You may be able to use the previous version for a while, but eventually, the program will be discontinued, and you will have an issue with it not working.

Outdated FireOS

Other devices hogging data

Lack of storage space
Fixes For Hulu Not Opening On FireStick
Hulu, like any other app or service, is not immune to malfunctions. If you're having trouble with Hulu not working on Firestick, try one of the following fast fixes.
Fix Your Internet Connection
The Hulu app requires a solid and stable internet connection to function effectively. If your Wi-Fi is down, the Hulu app on your Fire Stick won't work correctly, and you'll see an error message.
So, if Hulu is not opening on FireStick, the first thing you should do is to verify your internet connection. You can check your internet speed from fast.com or speedtest.net.
Hulu recommends the following minimum download speeds for a consistent and high-quality viewing experience:
3Mbps for Streaming Library

8Mbps for live streams

16Mbps for 4K
The first and most basic option is to repair your internet connection by closing Hulu and then opening any other app. Now see if the program works or not; if it does, the problem isn't with the internet.
If another application isn't operating well, likely, the Wi-Fi isn't working properly. As a simple troubleshooting step, you can also try restarting your Router. Here's how to do it:
Turn off the switch and then unplug the Router. After 2 minutes, plug it back in and turn it on.

Allow the Router's indicator lights to stabilize before proceeding. If the indicator lights continue to blink, the Wi-Fi network is experiencing problems. Call your service provider to fix the issue.
Your network connection may be strained if there are too many devices connected to your Wi-Fi network. Switch off all other devices on the same Wi-Fi network to see whether the Hulu is not opening on FireStick issue is resolved.
Restart Amazon Firestick
If the Wi-Fi is working fine and you are still having an issue with the app, you should try restarting your device. It's because the Fire TV Stick overheats when a user uses it frequently. Even though you may experience app crashes, buffering, and other issues as a result of overheating.
In this case, restarting your device may be beneficial; simply follow the steps below to restart Firestick:
Go to the upper menu from the Home Screen and select Settings or Hold down the home button for 10 seconds, then select Settings on the next screen.

Simply proceed to the next step and then open the My FireTV section.

Scroll to the bottom and select Restart.

After that, you'll be prompted for confirmation, so choose Restart.
You can also restart your Firestick with your remote. To do so, simultaneously press and hold the PLAY/PAUSE and SELECT buttons on the FireStick remote until the FireStick powers down and then restart.
The Firestick will now turn off, and when it turns back on, you will notice that it is smoother and performs better than before. After that, try relaunching Hulu to see if the problem persists; if it does, you're fine to go; if it doesn't, move on to the next option below.
Update Your Hulu App
If the above two methods don't work for you and you're still having problems with the app, it's possible that your app hasn't been updated yet. If you're not sure how to update the app, please follow the steps outlined below.
Hover over the upper menu on the Home Screen, then click the Search icon.

Now, using the keyboard, type Hulu and click the first result.

At this point, press the Update button.

You have to wait for the program to download, then pick Open to activate it.
You can also update Hulu by navigating to Your Apps & Channels and selecting See All from the drop-down menu. Hover down and select Hulu from the drop-down menu. After that, press the menu button on the remote and the Update button beside the Info button.
When you launch the app at this point, it will begin to work again. You'll be able to immediately view your favorite TV shows, anime, web series, and other material.
Check Hulu Server Down Issue
In rare instances, the Hulu server may be unavailable. On the downdetector.com website, you can check for live Hulu outages. You can also lookup #huludown on Twitter to see if others are experiencing the same issue. In such circumstances, you can simply wait until the Hulu crew resolves the issue; typically, these outages take only a few minutes.
Update FireOS
It's essential to keep your Fire OS up to date because it can affect the performance of other apps on the device. Usually, the Fire OS updates itself, but you can upgrade it manually if necessary. Here's how to do it:
Select Settings from the FireStick's home screen.

My Fire TV may be accessed by clicking here.

Click the About button to learn more. Updates can be found here.

Install Update by clicking the Install Update button.
You may have to restart your FireStick as well.
Clear App Cache & Data to Fix Hulu Not Opening on Firestick
If none of the preceding ways work, the only option left is to Clear Hulu Cache & Data. Your app will be returned to factory settings, and all offline saved files will be deleted, as well as the account.
Many individuals have stated that it works for them, but I have personally tried it. Simply follow the steps below to remove your cache.
To begin, select Settings from the menu above or by pressing and holding the Home button for a few seconds.

Go to the Applications section and open it at this time.

Simply select Manage Installed Applications from this menu.

Select All Applications from the Show menu.

Now simply scroll down and choose the Hulu app icon.

You'll have several alternatives at this point, so select Clear Cache.

Simply select Clear Data after clicking on the clear cache button.

On the next screen, select Clear Data once more.
Hulu's data and caches have now been purged, and you can just relaunch the app. Check to find out whether you can watch your movie after logging in with your account. Because the Hulu community also recommends it, it will undoubtedly solve the problem.
Uninstall and Reinstall Hulu
If none of the above solutions seem to work, remove and reinstall the Hulu software on your FireStick device. Here's how to reinstall the Hulu app:
Click Settings from the FireStick's home screen.

Go to the Applications tab.

Select Manage Installed Applications from the drop-down menu.

Choose All Applications and select the Hulu app.

Select Uninstall from the drop-down menu.
I hope this will fix your problem of Hulu not opening on Firestick.
Reset FirestickIf none of the other solutions work; this is the final step to fix the Hulu not opening on Firestick. It will delete all programs from your Firestick and make it work as it did when you first bought it (New firestick).
Go to the Settings menu and select My Fire TV.

Now select Reset to Factory Defaults from the drop-down menu.

Once you click this, the process of resetting the fire stick will take only a few minutes, and once it is returned to factory default, you will have a brand new firestick.
Resetting your Firestick will resolve all difficulties and install all available software versions, so you won't have to worry about the Hulu not opening on Firestick or any other app issues.
Here is a video tutorial on Hulu not opening on the Firestick issue to provide you hand to a hand solution.
FAQS On Hulu Not Opening On FireStick
1. Why isn't my Hulu working on my Firestick?
Hulu may not be working on your FireStick for a variety of reasons. In this article, we've attempted to cover all of the possible causes and fixes. Here are some possible reasons for Hulu not opening on Firestick:
Internet Connection Issues

Other devices are wasting data, and the Hulu app is outdated.

Hulu's server is down

Outdated FireOS version

Lack of storage capacity.

Glitches in the Hulu App
2. How to fix Hulu not working on Firestick?
Hulu may not operate on a firestick for a variety of reasons. However, here are some best fixes for Hulu not opening on Firestick:
Restart your Firestick.

Restart your Wi-Fi router.

Unplug your Firestick and your home network devices for about a minute and plug them back in.

Change your network connection from wireless to wired.

Update or reinstall the Hulu app.

Clear data and cache of the Hulu app.
3. How do I reset Hulu on Amazon Fire Stick?
Hulu on Amazon Fire Stick can be easily reset. Clear data on your FireStick by going to FireStick Settings > Applications > Manage Installed Applications > All Installed Applications > Hulu > Clear Data > Confirm Clear Data.
4. Does reset factory to default on fire stick helps to fix the Hulu app not working on Firestick?
Perhaps! Resetting the factory to default settings may resolve issues with the Hulu app and any other apps. If not, follow this article first to last to fix Hulu not loading on the Firestick issue.
Conclusion
This is the most straightforward guide for anyone who is having trouble on Hulu not opening on Firestick. Make sure to try each approach in this article since if one doesn't work, the second will most likely assist.
If you have found another solution to this problem, please let us know in the comments area. It will assist others in learning how practical this guide is. However, if you have any other suggestions, please post them here, and I will consider them if they are worthy.
---
Related: How to Activate OWN TV on Roku, Fire TV, Apple TV, Android
Nova is a writer, blog hunter, From Europ. He has been interesting about Phone Hardware-software and also PC Hardware-software and SEO for years. This website was invented by him. edexgo.com receives 200,000+ page views per month. 4k+ subscribers. You can also join us and advertise with us