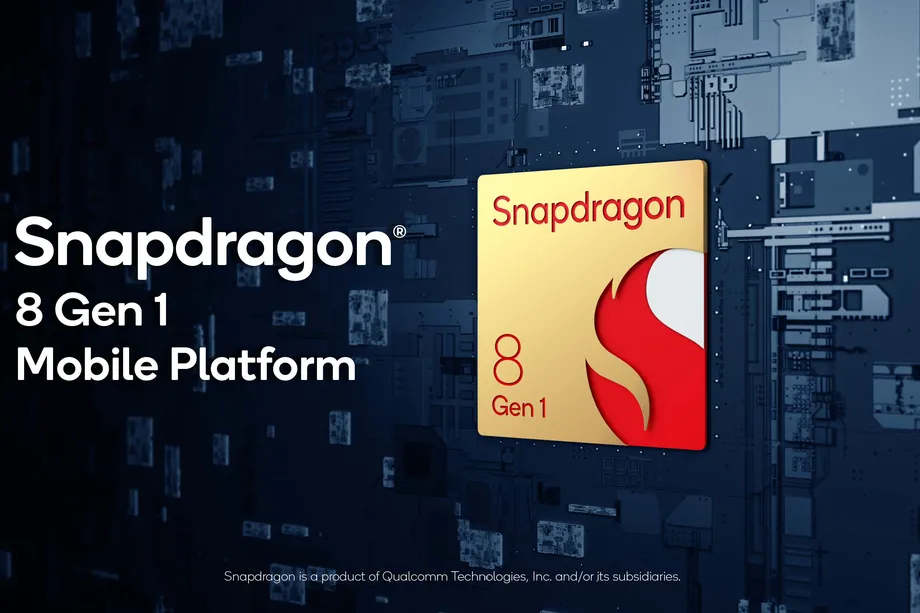 During Qualcomm's annual Snapdragon Tech Summit, the firm introduced a new flagship smartphone processor, the Snapdragon 8 Gen 1, providing an early look at the brains that will power future devices. In 2022, the most powerful smartphones will be available.
The Snapdragon 8 Gen 1 is the successor to last year's Qualcomm 888 and the first chipset to follow Qualcomm's new naming scheme (which the firm teased last year). which ditches Qualcomm's previous triple-digit numbering system for new, generation-based monikers.
Qualcomm, like it does every year, promises significant advancements in the Snapdragon 8 Gen 1 in terms of performance, camera technology, AI capabilities, security, and 5G.
Let's begin with the technological requirements. The Snapdragon 8 Gen 1 is the first Qualcomm chip to use Arm's new Armv9 architecture, as promised. The new eight-core Kryo CPU will contain a single 3.0GHz prime core based on the Cortex-X2, three performance cores based on the Cortex-A710, and four efficiency cores. These cores are based on the Cortex-A510 at 1.8GHz. Furthermore, the Snapdragon 888 was manufactured using a 5nm technology, whereas the new chip is manufactured using a 4nm process.
Overall, Qualcomm claims that the Snapdragon 8 Gen 1 will deliver up to 20% better performance and 30% more power efficiency than the previous model.
Meanwhile, Qualcomm claims that the new Adreno GPU (which, like the Kryo CPU in the first generation, doesn't have a specific number) will provide 30 per cent faster graphics rendering and 25 per cent better power efficiency than the Snapdragon 888. It will also have a new GPU control panel for fine-tuning the performance of your phone's games.
Qualcomm's Snapdragon X65 modem debuts on the Snapdragon 8 Gen 1, offering a series of 5G firsts. It's Qualcomm's fourth-generation 5G modem, and it supports up to 10Gbps speeds as well as the most recent 3GPP Release 16 specification, as well as earlier mmWave and sub-6GHz compatibility. You almost certainly won't see that kind of speed in the real world, as is always the case.
Wi-Fi 6 and Wi-Fi 6E, Bluetooth LE Audio (a first for Qualcomm), and Qualcomm's Snapdragon Sound technology for enabling AptX Lossless wireless audio are also supported by the Snapdragon 8 Gen 1.
Qualcomm is promoting its enhanced photography capabilities, which it is grouping together for the first time under a new "Snapdragon Sight" name, as is traditional for Qualcomm's top-tier chip.
The Spectra ISP remains a three-ISP system, although the Snapdragon 8 Gen 1 is an 18-bit system (up from 14 bits on the 888). This equates to 4,096 times more camera data and up to four additional stops of dynamic range in extremely bright or extremely dark conditions. The triple ISP (image signal processor improved3.2-gigapixel) per the second throughput enables tasks such as capturing 240 12-megapixel photographs in a single second and shooting concurrently. While shooting 8K HDR stills and 64-megapixel stills.
Qualcomm is also pre-installing extra high-end camera functions, like 8K video recording with HDR 10 Plus and shooting in 18-bit RAW. (That is, providing your phone has the necessary camera hardware).
Other photographic upgrades on the 8 Gen 1 include improved dark mode photography that can integrate data from up to 30 frames in a single shot (up from six images on the 888). Improved auto-exposure, auto-focus, and auto-face identification technologies, as well as a specific "bokeh engine" for adding portrait effects to 4K video and an "ultrawide engine" that can de-warp and reduce chromatic aberrations from images, are all incorporated.
In addition, Qualcomm is adding a fourth ISP to the SoC's specialized sensing hub: unlike the triple ISP for the primary camera, the new ISP will power an extra sensor. An always-on camera that is active at all times. Qualcomm has big plans for what developers can do with the always-on camera, such as shutting off your phone's screen when you put it down or detecting someone reading over your shoulder.
While the concept of an always-on camera raises some obvious security issues, Qualcomm claims that the functionality is meant to help make using your device safer by keeping any camera data for the always-on camera on-device in the chip's secure enclave. Customers will also be able to select whether or not to use the always-on camera, similar to how they can choose whether or not to use the always-listening microphone option for voice assistants.
When the first Snapdragon 8 Gen 1 chips are released, though, the extra potential — and how manufacturers put it into their devices, if at all — will be fascinating to watch.
In terms of AI, the Snapdragon 8 Gen 1 features Qualcomm's newest Hexagon processor, which incorporates the company's seventh-generation AI engine, which the company says is four times faster. And 1.7 times more power-efficient than its predecessor.
The firm demonstrated a number of use cases that the increased AI performance may allow, including the aforementioned camera capability, a "Leica Leitz Look mode" that simulates Leica lens effects, and improved identification of where you're holding your phone for antenna performance optimization. Qualcomm is also incorporating AI-powered sampling to give a DLSS-style effect for mobile gaming, which it claims will happen automatically when the 8 Gen 1 is used.
Finally, there are enhancements to security. In addition to compatibility for the Android Ready SE standard, which enables support for digital vehicle keys, driver's licenses, IDs, and e-money wallets, the Snapdragon 8 Gen 1 adds a new hardware-level layer of security with a "dedicated Trust Management Engine". There is also the capability for connecting directly to cellular networks.
Despite the new name, the Snapdragon 8 Gen 1 appears to be a standard Qualcomm processor, with the normal generational advancements we've come to anticipate from the company's annual flagships. Still, in a world where custom chips like Google's Tensor or Apple's A-series CPUs are gaining traction, it's encouraging to see that Qualcomm has no plans to slow down on its own top chips, even as the competition heats up.
And, with the first Snapdragon 8 Gen 1 smartphones set to arrive before the end of 2021, we won't have to wait long to know just how strong Qualcomm's next technology is.