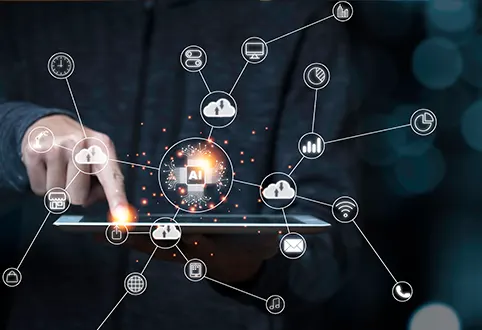 What is CLM Automation and How Does it Optimize Contract Management
What is CLM Software and How to Use it to Boost Your Contract Lifecycles
Today, manual management isn't practical, leading to bottlenecks due to modern business agreements' increasing complexity and volume. This means that contract lifecycle management tools are a valuable asset to any business that wants to get the most out of its agreements. But, what is a CLM tool? And how do you use it to your advantage?
What is CLM? CLM or contract lifecycle management is the process of handling a contract from creation through execution and monitoring its performance, renewal, and expiration afterward.
The contract lifecycle stages include:
Contract creation
Contract review
Contract approval
Contract execution
Performance monitoring
Expiration or renewal
Every step of CLM is vital to a business agreement's success, meaning that you must dedicate an equal amount of time and effort to each stage. However, this is becoming increasingly challenging as agreements become more complex, and businesses deal with a higher volume of contracts.
Common CLM challenges
Handling all the CLM steps and deadlines while ensuring compliance and adhering to timelines is a demanding task. What's more is that if you're not careful, contract lifecycle management can use a significant amount of your budget and resources.
Most CLM bottlenecks arise from a lack of efficiency and time management. These challenges include:
Lengthy contract negotiations
Slow approval turnarounds
Lack of organization
Inefficient contract collaboration
Limited contract visibility
Compliance issues
Missed deadlines
What is a CLM tool?
Contract lifecycle management tools allow legal, procurement, financial, sales, and contract administration departments to manage their contract management process through automation better. Businesses that implement CLM tools benefit from a streamlined contract drafting, negotiation, and approval procedure. Furthermore, contract management software creates a safe repository for all contracts and contract-related data, allowing for quick access and reporting.
How do contract lifecycle management tools help you add value to your contracts?
The usage of contract lifecycle management software allows for efficient and proactive contract lifecycle management. Businesses that implement CLM software benefit from considerable cost reductions and increased efficiency. Automating your CLM process also minimizes missed obligations and boosts compliance with legal standards, helping to reduce your overall risk exposure.
When you implement contract management tools to automate your contract lifecycles, you have the ability to:
Improve compliance
One of the leading costs for businesses in terms of contract management is compliance issues. When you violate your contract obligations, you may owe your partner reparations or have to pay legal fees. Contract management software helps you keep up with your contractual terms through smart notifications, request and approval accountability, and a personalized dashboard that allows you to view your obligations quickly.
Improve document organization
With improved organization and filing, you can find the right information when you need it. This means no more searching through email chains, filing cabinets, and desktop folders since all of your contracts are stored on a single cloud-based repository. The system also converts your documents into fully searchable text, and you can access your repository from any device.
Boost standardization
Some companies experience significant bottlenecks during contract creation. If this applies to you, contract management software has various templates, standardized terms, and clause libraries to help you with drafting. All you have to do is choose the one that suits your arrangement the best, then fill in your personal information.
Increase visibility
CLM tools provide a solution that allows more team members to view the progress and terms of agreements, suppliers, pricing, risks, and obligations. When your employees all have access to the same information, they are likely to be on the same page, which improves collaboration. Additionally, CLM tools can extract and organize contract data so that you can keep better track of your KPIs and overall risk level.
Shorten review and execution times
Contract management software automates complex approval routing, so your contract lifecycles take less time from start to finish. You can utilize the software's eSignature capabilities to save even more time. This feature allows you to approve agreements virtually, which is much more efficient than face-to-face meetings.
Reduce costs
A CLM platform helps your company reduce legal feeds and avoid unwanted renewals. Furthermore, you can identify the contract phases that cost your company the most with increased spending visibility and determine ways to cut costs. By keeping track of your financial obligations, you can maximize the profits from your business partnerships.
Boost productivity
When you eliminate unnecessary manual processes and centralize your important documents, you improve control and optimize workflow efficiency. Using automated tools to author, edit, approve, and monitor agreements is the best way to save time and boost the performance of your agreements, allowing your team to focus on creating and negotiating beneficial business arrangements.
Tips for choosing the best CLM tool in 2022
To successfully implement contract lifecycle management tools, you'll need a clear understanding of the bottlenecks you're trying to fix, precise goals, and buy-in from the various stakeholders who will be using the software once it's deployed.
There are a couple of things to consider when choosing a CLM platform to ensure it's the best fit for your unique operations:
Does the solution streamline the entire process or just certain stages?
Is the solution able to handle more complex agreements? Or just standard ones?
Does your contract workflow require a lot of collaboration across departments?
Can the software integrate with your pre-existing business solutions?
How long will the software take to implement?
Once you answer all of these critical questions, you will be able to find the perfect CLM software for your business so you can begin adding value to your agreements at every stage.