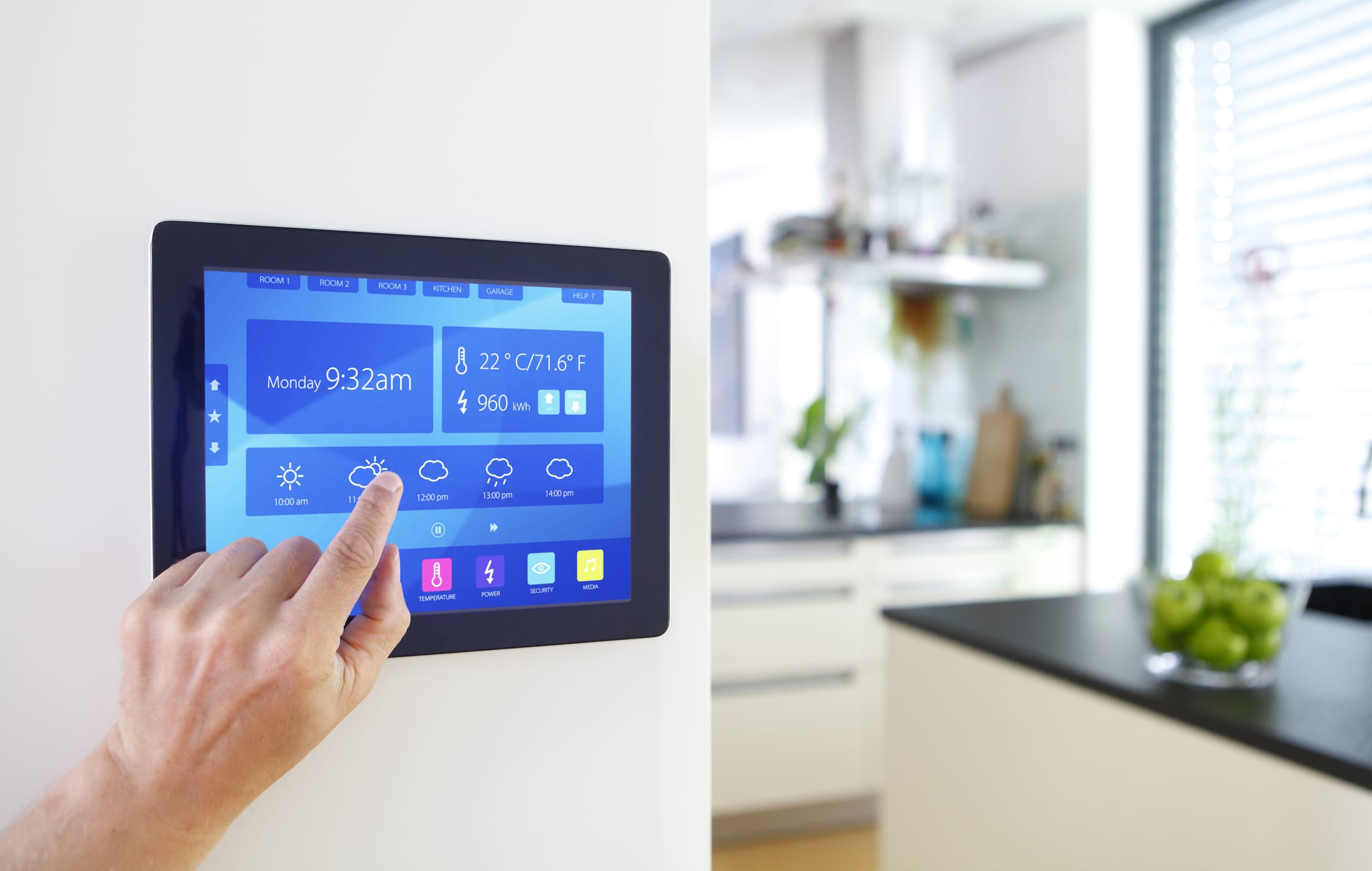 Home automation ideas are far from a one-trick pony. The possibilities are limitless when you start with a solid foundation, such as a sophisticated operating system that runs your whole home. We could go on and on about home automation ideas (many of which can be seen in our concept gallery), but for now, here are 78 to get you started, plus 5 BONUS Voice Control ideas to get you talking!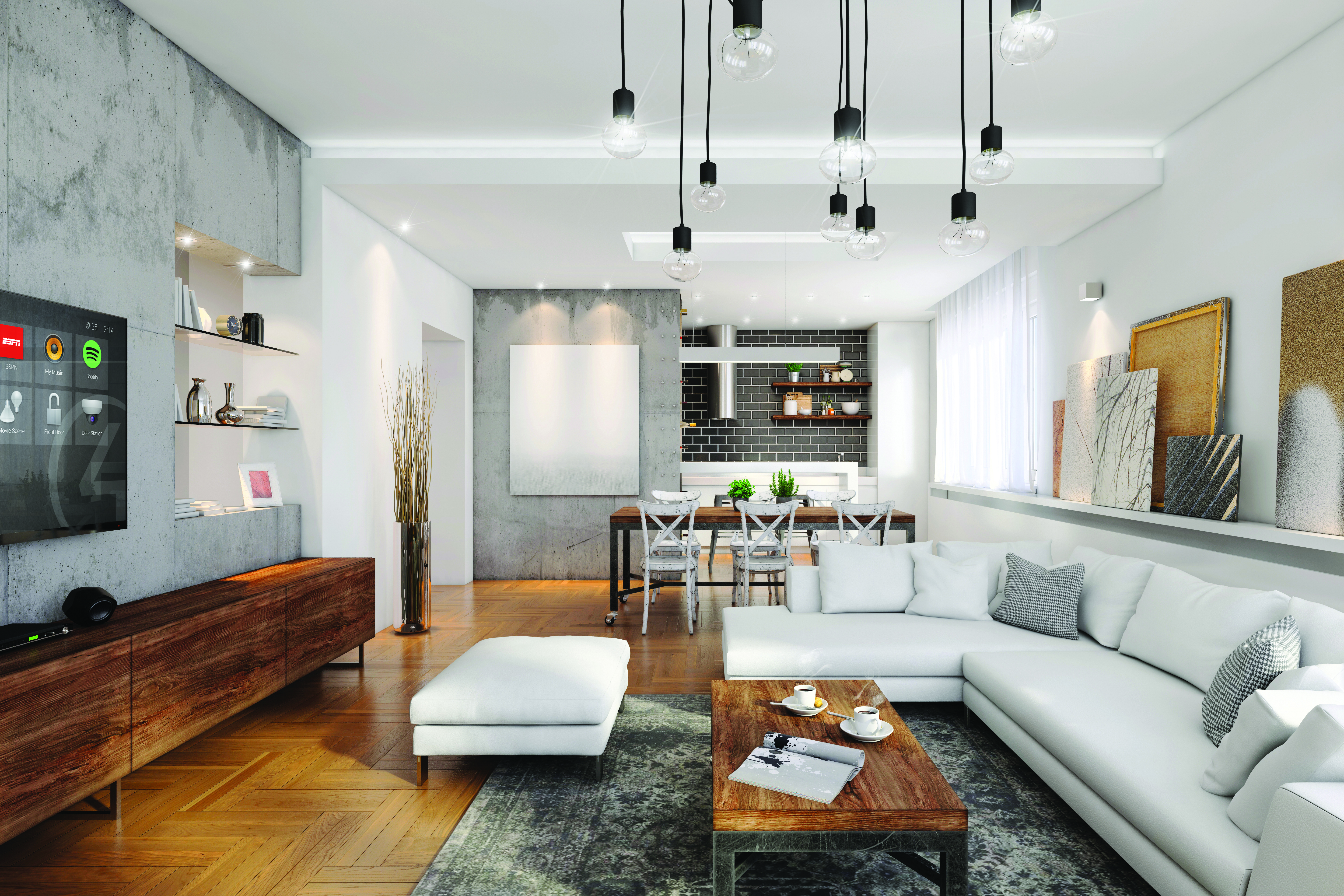 INSPIRATIONS FOR SMART LIGHTING
Instead of just one, a single button turns on all of the lights in a room or level. Double-tap the same button twice to turn off everything in the room (lights, gadgets, devices, etc.).
When someone rings the doorbell, the lights in your garage flash. When you open your garage door after dark, the outside lights that go up to your entry and just inside the house turn on automatically.
If a room has been uninhabited for an extended period of time, motion sensors in strategic locations may alert the automation system to turn off the lights.
Landscape lights may be switched on and off automatically at dusk and dawn. A "Bedtime" scenario can alter the bedroom lighting to precisely the right level for reading.
With a single touch, the "All Off" button turns off all of the lights in your home.
Midnight snack — just enough light to get to the refrigerator and return without waking up the rest of the household.
Motion detecting – When motion is detected at night, increase the brightness of the lights to 15%. (just enough light to see, not to be blinded).
When the kids depart for school, turn off the lights automatically.
If the natural light in the room is less than 50%, the lights should be adjusted to 50%. If natural light is less than 40%, the lights are turned up to 60%, and so on. This is especially useful when the shades are drawn or on a hazy summer day.
Landscape lighting – to save energy, have the lights come on stronger at sunset and then drop to 20% at 11pm.
MUSIC CREATIVE SUGGESTIONS
With a separate keypad in each room, stream music to every room in your house.
Use your smartphone, keypads, and touch screens to distribute all of your saved music across your home via distributed audio zones.
Press a key on a keypad to activate a music zone. If you tap the music, the LED will change to an allocated color for each family member (based on their preferred playlist/settings).
To switch off an audio zone, double-tap the volume button.
When you switch on the shower lights in the bathroom, music begins to play automatically.
To control music streaming in the shower, place a touch screen behind a waterproof wall mount.
Create your own audio settings for "His and Her." Each should be timed to match to the time of day, certain keypad buttons, or audio zones.
Use your grand piano as an audio source for your entire home's in-ceiling speakers.
When you connect your piano to your Control4 system, the music will play anywhere you have access to your home automation system.
Create a "Music" scenario that dims the lights to 30% and changes the level to your liking – excellent for late-night focus on a project.
AUTOMATION IDEAS TO ENTERTAIN
A "Party" scenario – with lighting that lights essential ornamental components and an instantly starting personalized song, create instant mood with the touch of a button.
Did someone unexpectedly show up? There is no need to be concerned. When guests arrive, play a chime over the audio zone's speakers where the party is being held.
Include microphones in the whole-house audio system so that presentations may be broadcast throughout the house.
Use your iPad to notify your refrigerator when you've run out of ice so it can increase output.
IDEAS FOR VIDEO/HOME THEATER AUTOMATION
28. Remote finder – triple-tap a light switch and your remote will start beeping instantly.
When a movie starts, lock your front and back doors automatically.
Dim the lights progressively over 7 seconds after pressing play.
Increase the brightness of the lights by 30% when you hit pause.
A TV rises from a cabinet on a mechanical lift, motorized speakers in the ceiling tilt downward, a surround-sound system activates, the shades close, and the lights darken with the touch of a button.
Create a home theater out of your golf simulation room.
When you get home from work and open the garage door, have every TV in your house automatically switch on to your preferred station.3
Set the volume of a child's television to a predetermined level.
SECURITY IDEAS THAT WORK
When your front door or gate intercom rings, use your bedroom touch screen to check who's at the door.
When the doorbell rings, "Who can it be now" plays via the speakers, the security camera revolves to the front door, the TV or movie is paused, and the outdoor patio light comes on from 20% to 75% if it's nighttime.
Are you watching TV when the doorbell rings? Allow a picture from the surveillance camera to appear on any TV that is currently turned on for 15 seconds, interrupting the TV show or movie.
Built-in alarms that will inform you if the front door is left open for more than five minutes or the front gate is left open for more than ten minutes.
View security video feeds from anywhere in the globe with your smartphone.
View security video feeds from anywhere in the globe with your smartphone.
When your security cameras detect motion, you'll get a text message.
Set up a "Cat" scenario to temporarily deactivate your security system and put on external lights in readiness for the cat's nightly ventures outside.
Set the lights to flash three times when an outside door opens (even in the master shower).
In the event of a security breach, set every light in the home to 100% illumination. The front door locks automatically, the motorized shades open, and every TV displays images from all CCTV cameras at the same time.
When prompted, program strategically positioned surveillance cameras to transmit security video to selected TVs and touch displays.
"Mockupancy" scenes — automatic lighting that makes the house look inhabited while you're away.
Are you going on vacation and wish to grant a visitor access to your home? Create temporary access codes for your visitors, which they may use to alert you of their presence by punching into your smart locks.
Create unique admission codes for each member of the family.
Install a timer that automatically closes the garage door if it is left open for more than 10 minutes. When you're working in the garage, a motion sensor may be utilized to keep the door open.
Motion sensor in the driveway – when motion is detected, the cameras return to their original position and begin recording, the exterior lights dim, and text message warnings are delivered to smart devices.
Have you forgotten to lock your doors? When you depart for work, set the doors to auto-lock three minutes after the garage door closes.
If natural lighting is less than 50% when the rear door to the garage opens, turn on the inner garage lights.
Dim lights to zero over 10 seconds and lock the rear door when the garage door is closed and the garage zone's motion sensor does not detect activity.
ALERTS AND NOTIFICATIONS ON A DAILY BASIS
In the mailbox, install a contact sensor. When the mail arrives, the AOL theme "you've got mail" plays throughout the house, the lights turn red, and SMS messages are distributed to smart devices.
When a garage door is left open, receive an SMS alert.
Get an automated SMS alert when an issue occurs, such as a basement pipe leak.
Do you need a gentle nudge to remember to take out the trash? Once a week, schedule a notice to show on every touchscreen and mobile device at the same time.
Receive an alert on your smart device when the oven is ready.
Instead of staying up late waiting for your teenagers to get home, set your lights in your bedroom to switch on as they walk through the front door. You may even set it up so that when the door is secured again, your phone informs you.
When the kids return home from school, send them a text message or a push notification.
Receive notification when the liquor cupboard is opened.
Get a notice when motion is detected in a certain room (such as your home office or the wine cellar).
Get SMS or email reminders when it's time to take your prescription.
HVAC filter, Central Vacuum annual filter, and other reminder messages
DAILY LIFE AUTOMATION IDEAS IN LUXURY
A keypad outside your front door that, when you go in, starts playing music or turns on your favorite TV channel in the kitchen, all with the push of a button.
When a certain door lock code is pressed, create a personalized scenario. If a family member's door lock code is pressed, for example, switch on a favorite TV channel and adjust the volume to 50% automatically.
For those early morning showers, heated towel racks that turn on at a certain time.
Floor heating dependent on exterior temperature: In the garage's attic, install a remote temperature sensor. If the garage temperature is below 40 degrees between 4 and 9 a.m., turn on the master bath floor switch (heat), which will turn off automatically at 9 a.m.
IDEAS FOR CLIMATE CONTROL
Automate the opening and closing of blinds and curtains based on the location of the sun and the number of people in the house.
A "Wakeup" scenario that opens the curtains, gradually raises the illumination over five minutes, and adjusts the temperature to your preference.
When you leave for work in the morning, turn down the heat automatically.
From the comfort of your couch, light the fireplace using your smartphone or tablet.
An "Exercise" scenario that reduces the temperature in preparation for an exercise, as well as turning on a preferred TV channel or beginning a personalized music playlist.
AUTOMATION IDEAS THAT ARE ENERGY EFFECTIVE
Install an energy management system that continuously checks your home's solar panels' current energy production.
Use your home automation system to automatically measure your complete home's energy consumption, circuit by circuit.
Set your lights to never be on maximum brightness in your home.
Program sprinklers and lawn systems to adapt to weather conditions automatically (so you don't have to water the grass on wet days).
5 VOICE-CONTROL IDEAS AS A BONUS
"Good morning, Google," gradually illuminates the room, starts a calming music, and turns on the kitchen lights. You're all ready to begin your day!
"Alexa, play party time" lowers a disco ball from the ceiling, activates LED color changing lights, and dials up the volume on your favorite party song.
You can see the movie even if the remote is buried behind the sofa cushions. A single voice command can switch on the Blu-ray player, dim the lights to 30%, close the curtains, and create the ideal movie-watching environment!
Do you need a few more minutes of shut-eye? "Echo, Sleep In" can close all the blinds, lock the doors, play a relaxing melody, and help you get an extra hour of restful sleep.
Are you pressed for time? "OK, Google, it's time to leave." The lights in the children's bedroom flash, an obnoxious fog horn sounds, and they are reminded that it is time to put their shoes on. Now.
FOR EVEN MORE HOME AUTOMATION IDEAS, FIND A CONTROL4 AUTHORIZED DEALER.
Our Control4 Authorized Dealers are actual experts in their fields, and there's no better place to go for home automation ideas that are personalized to your lifestyle. To get started, choose a dealer near you.