Stickers are everyday useable things in our daily life. Most people love stickers, but the majority of them are children. Children love stickers. It is the most profitable and growing business nowadays. Most people don't know How to start a sticker business?
In this article, we will discuss each and everything:
How to start a sticker business
Advantages of sticker Business
Disadvantages of sticker Business
Table of investment and profit of Sticker Business
Demand & Sticker Search history of last five years
Steps of starting Sticker Business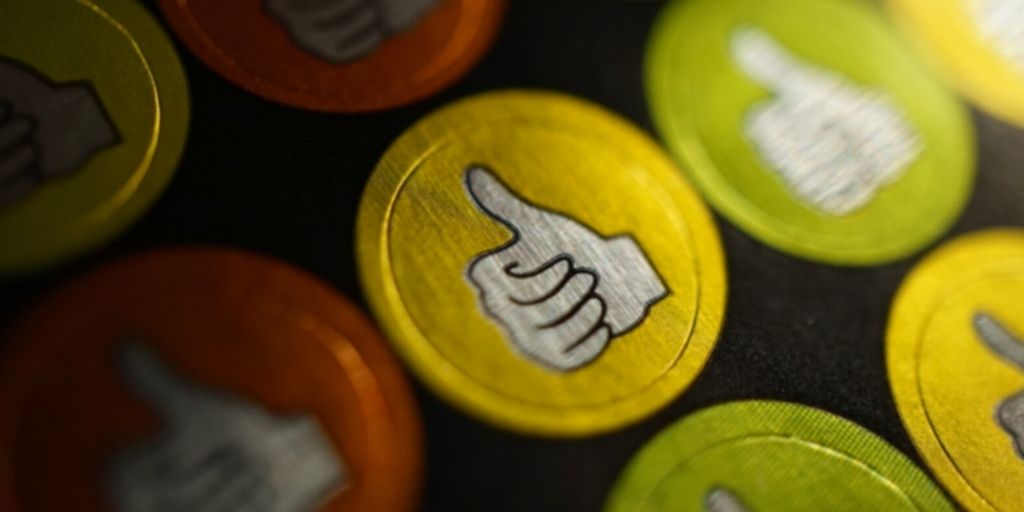 How to Start a Sticker Business?
Before the start of the sticker business, you should be self-confident because you are going to invest in billion dollars market where are already big players are sitting, such as: 
Ps Print
Now we will discuss the advantages and disadvantages of the sticker business.
Advantages of Starting a Sticker Business
1. Start By Yourself
You can start it by yourself if you have some experience with the sticker Business.
2. Easily Rank
You can easily rank your sticker business by adding new features and innovations.
3. High Customer Retention
It is a high custom retention business; if the customer buys your product, they invest more in your products if he likes your product.
4. High Gross Margin
Stickers have high gross margins of approximately 90%, which allow you to grow your business.
5. Influencer Business
You can easily influence your customer to buy your product through your packaging material and price etc.
6. High Potential
It is a high potential business; you can earn as much you want by investing your strong ideas, experience, money, etc.
By investing in the stickers business, you can enjoy getting tax exemptions.
7. Simple Business
The main advantage of the sticker business model it is a simple business where no need for hard work.
8. Easy to Market
In the sticker business, you can efficiently market or sell your products through Social media, Facebook, Instagram, and e-commerce platforms like Amazon, Etsy, eBay, etc.
9. Respectable Business
In this Business, You need to give respect to your customers that will help you grow your profit.
10. Easy to Generate ROI
Before starting a business, you should need to see results and revenue, etc., and implements good ideas that will help you to generate more ROI.
Disadvantages of Starting a Sticker Business
1. Motivation of Employment
If you think you need a sales team who runs your business. It is too difficult to motivate them and create a passion for hard work.
2. Employment Salaries
Most of the employees have a small business that is not good for us because they can't work correctly they want a salary that is not good for your business.
3. Tax Frustration
In sticker business, you pay an annual tax that is maybe high that will minimize your profit margins.
4. Niche
Niche has a significant role in the key to success. If you choose any place that can't target your audience, you will fail in the sticker business. 
5. Different Countries Taxes
If you are going to sell in different countries, you should be facing sales tax problems. For understanding about sales taxes, check out the article. 
7. Churns Rates
There is a high chance of cancel of memberships by customers that affect your revenue. So you should need to focus on churns rates.
8. Difficult to Grab Customer Attention
In this business, there is no face-to-face interaction. It is difficult to grab the attention of your customer. So you should need the patience to build customer community.
9. Build Customer Community
It is challenging to earn a passive income in starting this business because you have no customer community. So you should need patience in a start-up.
10. Technical Issues
In sticker business, technical issues must be existence sometimes you should need outsourcing to save your time.
11. Break Down of Products
Sometimes your product is not sold, and it stays for years in the warehouse and causes breaks, so you should be ready for this loss.
Table of investment and profit of Sticker Business

The above table shows all the data of sticker Business.
Demand & Sticker Search history of last five years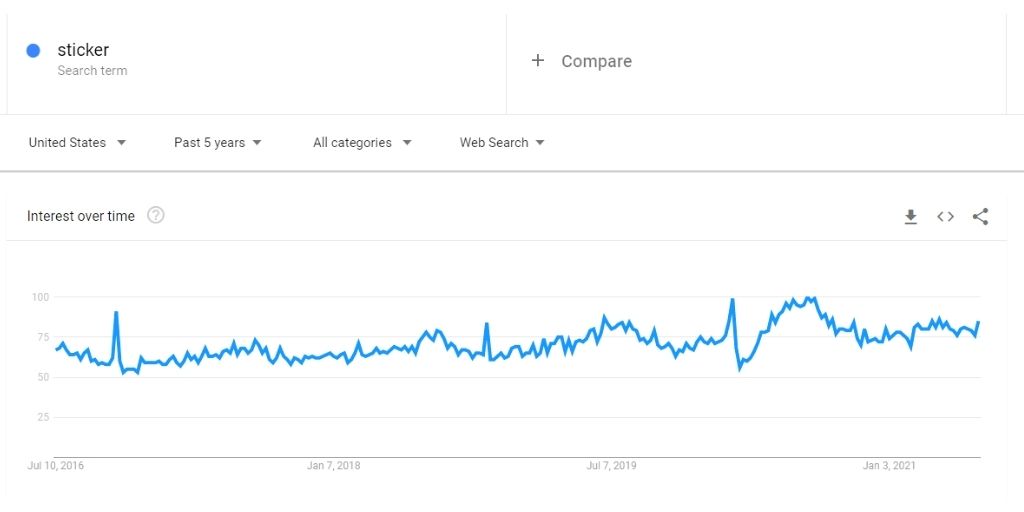 Steps of starting sticker Business
There are a few steps which by following them, we can quickly start a sticker Business.
Step 1. Choose your stickers
The first step of starting a sticker business is to choose stickers. Everyone has their favorite stickers such as children like cartoon-type stickers, adult-like different stickers such as bumper and planner stickers. But most popular are decorative stickers.
It depends on you which type of sticker you want to sell. I recommend you choose those stickers that have high demand or if you have a community on any social media platform that demands stickers. Then select their favorite stickers and sell them.
Step 2. Search your audience
Before selling stickers, you should figure out where your target audience is? On which platform are you going to sell? Which type of stickers does your audience want? Because when you understand these questions, your success chance increased.
So you should need to determine your target audience if you have any target audience like Facebook and Instagram room decorative groups. You should need to sell decorative stickers because you already have a decorative audience that uses your decorative stickers for decorating charming rooms.
Step 3. Create your stickers
After target your audience. You should need to create your sticker. If you already know how to create or design stickers. So do it by yourself. Because when you prepare by yourself your self-confidence will be increased and you get hands-on experience, which will help you in your future business.
If you are ready to do it by yourself must follow these steps:
1. Pick sticker
Before making any sticker, you need sticker paper on which you are creating your sticker. There are many online platforms like Amazon, Etsy, eBay, etc., where you can buy stickers paper and draw stickers.
2. Choose your printers
After creating your sticker, you need to print your sticker. For printing stickers that you make, you need a printing machine that prints your stickers. If you have no idea about printers, I suggest you use PIXMA iX6820  and PIXMA MX922. They have significant effects. That prints your stickers unique and beautiful. 
3. Cut your stickers
It is 3rd and last step of creating your sticker. After printing stickers, you need to cut your stickers. If you want professional cutting, then I suggest you use Cricut Explore Air 2. But it is too expensive but doesn't worry if you don't want to invest more in these products then use pairs of scissors it very helpful and necessary it takes time while cutting but saves your money. The only benefit of Cricut Explore Air 2 is to save time or cut stickers early.
Suppose you don't know anything about creating a sticker, so you should not worry because many shops make stickers according to your given idea or thoughts and send them to a third party to print your stickers. Third parties companies send it to shopkeepers after printing, and your shopkeepers provide it to you. Then you sell it.
Step 4. Sell your Stickers
After printing your stickers, the most important thing is selling these stickers. When we are in the selling stages, we are confused about which platform we choose to sell stickers. Now we discuss outlets on which we sell our stickers.
Sticker selling through website
It is the most growing platform where you can quickly sell your stickers. If you want to sell stickers through the website, you need to purchase a Host and Domain. Many companies on the internet provide services of the domain. You pay them and buy your website domain.
After that, you need to create a website on WordPress and install the plugin of woo-commerce. Then you post your sticker with features and start selling.
If you have no idea about websites, I suggest you hire someone else who is an expert in WordPress.
Sell stickers through e-commerce platforms
If you want to sell through e-commerce, there are many e-commerce stores like Amazon, Etsy, eBay, etc., where you can quickly sell your products. Amazon has the largest e-commerce platform. 
You need to create your seller account and some more things like the need to register a company. After all processes, you can quickly sell your stickers and earn ROI. The most beneficial thing is that you can trade in different states. For example, if you are a US citizen, you can quickly sell in other countries like UK, AUS, CANADA, etc.
That will help you to grow and make more profit.
Sell through Social Media platforms
In nowadays, you can quickly sell your products. If you want to sell your stickers, then create Pinterest, Facebook, Instagram accounts. After that, make your stickers, brand name pages, and groups. Many peoples join and follow you. Then you can quickly sell your stickers and build your customer community.
If you don't know how to sell on social media, hire someone else freelancer who is an expert in social media.
Step 5. Choose to ship method
Choose a shipping carrier is one of the essential parts while you are selling online. Many shipping companies ship your products to customers.
Suppose you are living in the united states. I recommend you choose the USPS shipping carrier. It is one of the most popular and cheapest shipping carriers. Many e-commerce platforms like Amazon, Etsy, eBay, etc., recommend USPS shipping carriers. It is an international shipping carrier. If you want to sell to other countries while living in the United States, search for a suitable and cheapest shipping carrier on google. You will find your best shipping carrier.
Step 6. Labeling and packaging
After choosing a shipping carrier, you need labeling and packaging for your stickers. I recommend you if you have made more sales in a single day, then send your sticker inventory into the warehouse. They make labeling and packing by themselves. When you receive an order, they will send your sticker to your customer.
But if you want to do package and labeling by yourself, then I recommend you choose flat mailers because they can not bend your stickers. If you select any regular envelopes, it bends and damages your stickers. Further, I will suggest you add one sticker as a freebie. It will make your customers happy, and maybe he buys more stickers from you.
Step 7. Market your Product
It is the most important thing that you should need to understand. When you launch your products on any E-commerce platform. You want to rank your stickers and want to generate high sales. In this paragraph, I will give you some tips that you can efficiently market your products.
Market through Social Media
It is easy to step where you can easily market your products. Just create your products pages on Facebook and Instagram and build your community that will help you to market your stickers.
Through Running Adds
You can easily market your stickers by running your product ads on Facebook, Instagram, YouTube, etc. If any buyer clicks on your ad, they will quickly buy your sticker from your website and E-commerce platform on which you are selling.
By Making Videos
Create your YouTube channel on making videos about the features of your stickers and publish them on YouTube. Buyers watched your videos on YouTube and will buy your stickers.
Market through Reference
It is the best method to market your stickers. If any buyer bought your stickers, give them some reference code and if he accepts your stickers next time, provide some discount. It is an easy method to generate income and build customers.
Conclusion
We discussed all points briefly. Hopefully, you understood very well all details. And I hope you are ready to start your online sticker business. My best wishes are with you. May you will find success in your industry.
Nova is a writer, blog hunter, From Europ. He has been interesting about Phone Hardware-software and also PC Hardware-software and SEO for years. This website was invented by him. edexgo.com receives 200,000+ page views per month. 4k+ subscribers. You can also join us and advertise with us