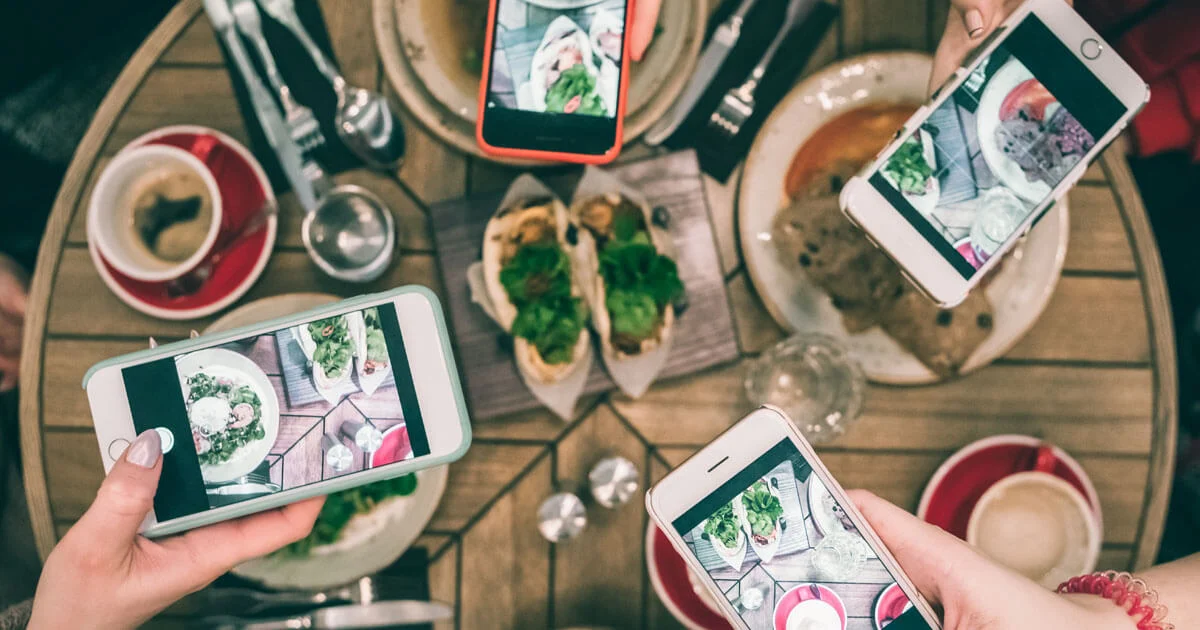 Six social media marketing strategies to promote your rooftop restaurant
The key to any marketing promotion is to put your messaging where your potential customers spend their time. In 2022, the place most people spend their time is social media. And that's not even an exaggeration!
Today, there are over 4.26 billion active social media users. That's more than half the world's population! If you want to promote your business, that's where you need to be. Here are six social media tips to help you promote your rooftop restaurant and get more customers through the door (and up the stairs).
Showcase what makes your restaurant unique
There are literally billions of social media posts every day. That means there's a lot of competition for attention online. If you want to make an impact with potential customers, you need to stand out from the pack. The best way to do that is to showcase what makes your business unique.
As a rooftop restaurant, you have one thing that other restaurants don't: views, views, views! Don't be afraid to make plenty of posts showing off the views from your dining area sitting atop the world. What other type of restaurant can boast such dining sights?
Besides your amazing rooftop views, think about what else makes your business unique. Do you offer special food items? What about your aesthetics? If there's something that sets your restaurant apart from everyone else on the internet, that's what you should highlight in your social media marketing campaigns.
Use social media post templates
Most social media platforms focus on visuals, like images and videos. And since there's so much competition online, you always want to use high-quality and unique visuals.
Sometimes, it's not enough to simply post a photo or video. You also want to tell people about what's going on in your restaurant. However, you're too busy running a business to sit down and design custom graphics for your social media campaigns. That's where templates come in!
Social media templates are a secret weapon to any business running an online marketing campaign. They allow you to post high-quality and unique graphics quickly and without needing professional graphic design skills.
Check out some of the Instagram templates on PosterMyWall for inspiration on your next post. You can also find templates for other platforms and messaging, including Instagram stories, Facebook posts, videos, banners, ads, and more. It has everything you need to simplify your social media marketing efforts!
Everyone likes a foodie picture
It might sound obvious, but one of the best strategies to promote your rooftop restaurant on social media is to post delicious photos of your food.
Just think, someone is at home scrolling through their social media feed, and they come across a photo of your food. Their mouth immediately starts watering, they say something like, "That looks amazing. I need to get some!", and they either head out immediately or start planning a night out.
Of course, the only way to make this social media marketing strategy work is to post only high-quality photos and videos. There's so much food content on social media, and you want to stand out. A simple phone shot of a dish on its way to the dining area isn't going to cut it. Plan your photo or video shoot and actively make the food look incredible.
Never underestimate the power of a good food shot!
Engage with your followers
There's one thing many businesses forget about with their social media campaigns, and oddly enough, it's right in the platform's title. You have to be social! It's not enough to make a post and hope it gets visibility. You need to engage with your followers and have a back-and-forth conversation.
Customers want to feel like they know your business. The better they feel they know you, the more likely they'll visit your restaurant. And the best way to develop a relationship is with conversation. Don't forget to engage to your followers online using these methods:
Ask questions in your posts to promote engagement
Comment on peoples' posts
Reply to comments
Respond to online ratings
Answer direct messages (DMs)
The more you communicate, the more customers you'll have dining on the rooftop. It is called "social" media, after all.
Share user-generated content
Remember way back when we discussed engaging with your followers? We'll there's a powerful way to engage with your followers and generate new content for your social media marketing campaigns, and that's with user-generated content.
User-generated content is exactly how it sounds: It's content created by other users that you share to your business's social media feeds.
For example, if someone comes to dine in your rooftop restaurant and they take a lovely picture of the sunset behind their delicious plate of food, you could hit the "share" button under their post and put it on your business's page.
Not only does this make the customer all warm and fuzzy inside (feel engaged with your business), but it also shows all your followers that real people love to eat at your restaurant. It's not just content created by a marketing team; it's content created by a real customer, which is much more authentic. In fact, 60% of users say that user-generated content is more authentic than company-made posts.
To make things even better, you don't have to make a post. As any marketing professional knows, coming up with new content is one of the hardest parts of the job. Sharing user-generated content removes that burden (at least for the one post you share).
Of course, be sure to ask for the user's permission before sharing content. Some people don't like the publicity.
Use multiple platforms (and know what they do)
Each social media platform has a different demographic. That means the best way to reach the most potential customers is to use multiple social media platforms. And even more, you need to learn how to use each platform.
Think about your ideal customer. Ask yourself questions like, how old are they, what are their interests, etc. Really try to get to know them. Then, find the platform(s) that best works for each demographic.
For example, if you want to reach people between 30 and 49 years old, posting a TikTok video isn't going to do it. There aren't many people in that age range using that platform. However, 77% of people 30-49 use Facebook, making it a great place to post your content!
Once you know where to find your ideal demographic, you need to understand that platform. Each platform has a different set of "rules." For example, Instagram is all about visuals. Each post must have at least a photo or video, and the text is secondary. Facebook, on the other hand, suggests visuals (it's not required) but puts a stronger emphasis on text compared to Instagram.
If you dig a little deeper, you'll also realize there are different ways to use each platform. You can post silly content on Instagram or Facebook, but LinkedIn content should be more professional.
Take your time to learn about the different platforms before you start a social media marketing campaign. Posting the wrong content on a platform will hurt your user engagement and make your company look bad or out of touch.
Get more customers to the roof with social media
Your rooftop restaurant has a lot going for it. You've got incredible views and even better food. What better place to promote your business than on social media!?
When planning your social media campaign, don't forget to showcase your uniqueness, use social media templates, post plenty of photos and videos of your food, engage with your followers, share user-generated content, and use multiple platforms to reach the most people. If you can do all that, your rooftop restaurant will have more customers than you know what to do with!