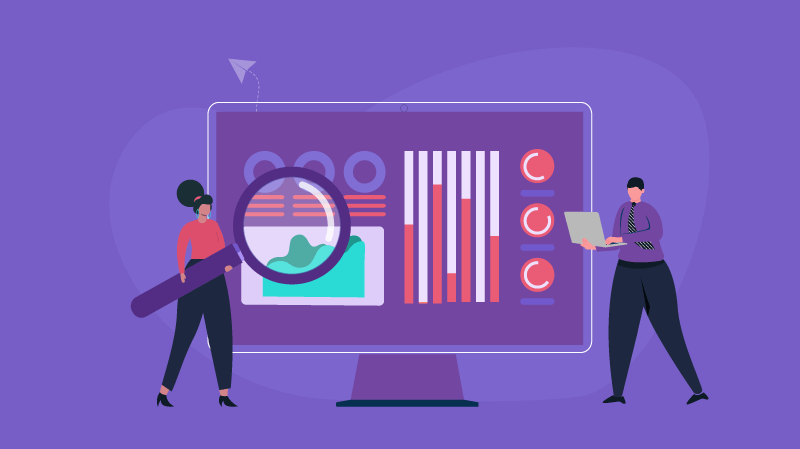 Employee performance tracking ensures that the organization operates and meets timely measurable objectives. In addition, tracking employees' work keeps a tab on their growth and development. But monitoring and tracking employee performance does not mean using computer software to keep a check on the employees at all times. Instead, managers should promote the concepts of self-learning, self-management, and self-monitoring to help employees to work effectively.
In this guide, we will discuss the ways to monitor the actions of employees without using any tools or computer tracking software.
Pros of Employee Monitoring
An increase in employee efficiency and productivity with monitoring.
Prevent data loss as it records how employees handle sensitive information.
Companies can gain insights into employees' workflow.
Monitoring employees improves fairness and relationships among coworkers.
Cons of Employee Monitoring
Employees feel companies are invading their privacy by monitoring them at work.
Monitoring the employees also reduces trust, thus, damaging the relationship between employees and employers.
Depending on the local state laws, monitoring can be against the law.
Monitoring increases their stress and lowers their morale.
The Best Ways to Track and Monitor Employees
As the pros and cons of employee tracking indicate, employee productivity and morale hampers when managers use tools to keep a check on their employees.
But there is also an alternative, better way to do just that. Follow on to learn how to monitor Teams and track employee activities in the right manner.
Set out clear goals and expectations.
Aside from managing their work, managers must also ensure that employees are clear on what they must do — clear thoughts, goals, and expectations. Employers can do this by sharing what has to be done and what is expected from the employees. Here are some quick tips for setting out clear goals and expectations:
Connect weekly or monthly objectives to the company's goals and share them with employees.
Allow for employee feedback and be open to dialogues and suggestions.
Focus on each employee's skill set and assign work accordingly.
You can also follow the concept of SMART goals and create specific, measurable, achievable, results-oriented, and time-bound goals for the employees.
Review work-in-progress on a regular basis.
After distributing the objectives to individual freelancers, managers should also focus on the employee's day-to-day activities. Otherwise known as micro-managing the staff members, reviewing employees' work goes beyond analysis. For instance, it shows that you are always accessible to the employees.
However, the review should not be limited to just the work progress. Instead, managers should focus on expectations, workload, well-being, and development and support their employees during review sessions. In fact, the most crucial aspect of reviewing work is prioritizing other parts of the employee's life.
The ideal frequency for such review sessions depends on the individual employees themselves. It varies depending on the employee's experience, skill level, motivation, and appetite for feedback and discussion.
Ask employees to use self-monitoring tools.
Instead of doing what every manager does in the work-from-home scenario, your company can follow a unique approach. For instance, instead of monitoring and surveillance software on the employees, managers can ask the employees to use self-monitoring tools. This will boost employee morale and increase trust between employees and managers.
There is no harm in using monitoring and surveillance software. However, it is only suitable if managers do not treat their employees as school-going children and ask them to review themselves. Many studies have shown that self-monitoring tools develop employees' emotional intelligence and increase their productivity. At the same time, putting them in surveillance software communicates a lack of trust. In fact, it can reduce the productivity of the most dedicated workers.
Set up self-management programs for employees.
You can set up self-monitoring programs and classes for the employees. Self-management lessons teach employees the ability to regulate and control their actions. Additionally, it also teaches employees how to achieve work-related and personal goals. Self-management has many benefits too. For instance, employees will have a clear outlook of their goals and objectives.
Help employees use self-monitoring tools.
Aside from introducing self-management programs, managers can also leverage the power of self-monitoring tools for employees. Self-monitoring tools come with project plans, checklists, and activity logs.
These tools can help an employee to assess whether they are able to meet up the deadlines that they set up for themselves or not. They can learn from their own mistakes and retrospect their own work.
Managers can also ask the employees to make a checklist and report to the manager regularly. Managers can use the data like activity logs, work done, and so on to learn about the employee's work.
Use Productivity Score
Companies, in general, discipline employees for not completing the work on time. However, they do not reward the employees for completing the work on time. Or, do not pay attention to the brilliance and over-the-edge employee. While one can regard that managers are often busy with their own work that they cannot pay attention to employee's achievements.
However, it is seen that companies that reward employees (for outstanding performance) gain the trust of the employees. Even if a single employee gets rewards for their achievements, the morale of the entire team lifts up.
Give meaningful feedback
Feedback is not alien to employees. However, most do not take feedback seriously because it often lacks sincerity. Research from PwC shows that employees take relevant and meaningful feedback to their roles. Most importantly, employees work on meaningful and relevant feedback.
Conclusion,
An ideal work environment where every employee is motivated at all times is a myth. No human can work the same on all days. And by incorporating monitoring and tracking tools, managers will only hamper the productivity and morale of the employees. However, it isn't all bad if you do it in the right way. After all, it is the manager's duty also to teach employees how to work effectively. And by teaching the concepts of self-learning, self-management, and self-monitoring, they can help the employees to work effectively.
Nova is a writer, blog hunter, From Europ. He has been interesting about Phone Hardware-software and also PC Hardware-software and SEO for years. This website was invented by him. edexgo.com receives 200,000+ page views per month. 4k+ subscribers. You can also join us and advertise with us